Creating a healthier, more comfortable, and more efficient home takes work. That goes double when you're making a change as impactful as going solar or moving from fossil fuels to electricity. At Pearl Certification, we believe that hard work should be recognized and rewarded.
That's why we developed Badges. Found in both Pearl Certification packages and on Green Door, Badges capture key achievements in your home performance journey. Like your Certification Tier, they're a shorthand for future buyers, lenders, and appraisers — an easy way to see the smart investments you've made and the value they've added to your home.
Here's a breakdown of Pearl's badges and how you can unlock yours.
Solar Badge
Pearl's Solar Badge is a powerful signal to buyers, lenders, and appraisers that your home is high performing and energy independent. When you earn a Solar Badge and have your home certified by Pearl, you'll also receive a Solar Equity Value Report, which demonstrates to appraisers how much value your solar investment has added to your home. (See a sample report here.)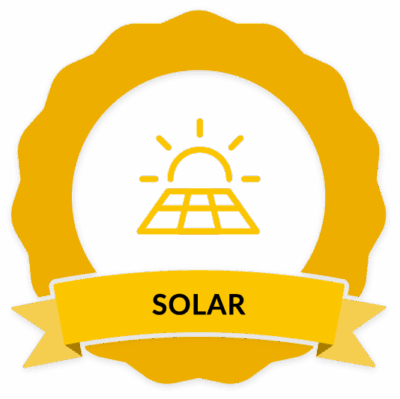 How to Earn It
Update your assets in Green Door to include your solar panel system and inverters:
Once your solar panel system and inverters have been installed, log in to Green Door and update your assets by navigating to My Home's Assets → Update Assets → Solar, EV & Energy Storage.

Upload photos of the panels and inverters and answer a few questions using information from the installation documentation. Note that to certify the solar assets, we'll need to know if the system is owned or leased.

Pearl will certify the size of the system (in kW), its annual production capacity (in kWh), its efficiency (usually a little above or below 20%), as well as other characteristics. This documentation can be found on the utility interconnection agreement, invoices, and through online portals that monitor your home's energy production.

If you had solar installed by a Pearl Network Contractor, they'll take care of updating your assets in Green Door. You just sit back and wait for your Badge and report!
[Optional] Upload a photo of your power production warranty with your solar assets:
This step is optional, but may help an appraiser create a more accurate value for your solar system.
Once your solar panel system is certified, Pearl will issue you a Solar Badge and a Certification package that includes a valuable Solar Equity Value report. This report will quantify the value your system has added to your home. Your Solar Badge will appear on your Certification package as well as in Green Door. All documents will be stored securely in the My Documents section of your Green Door account.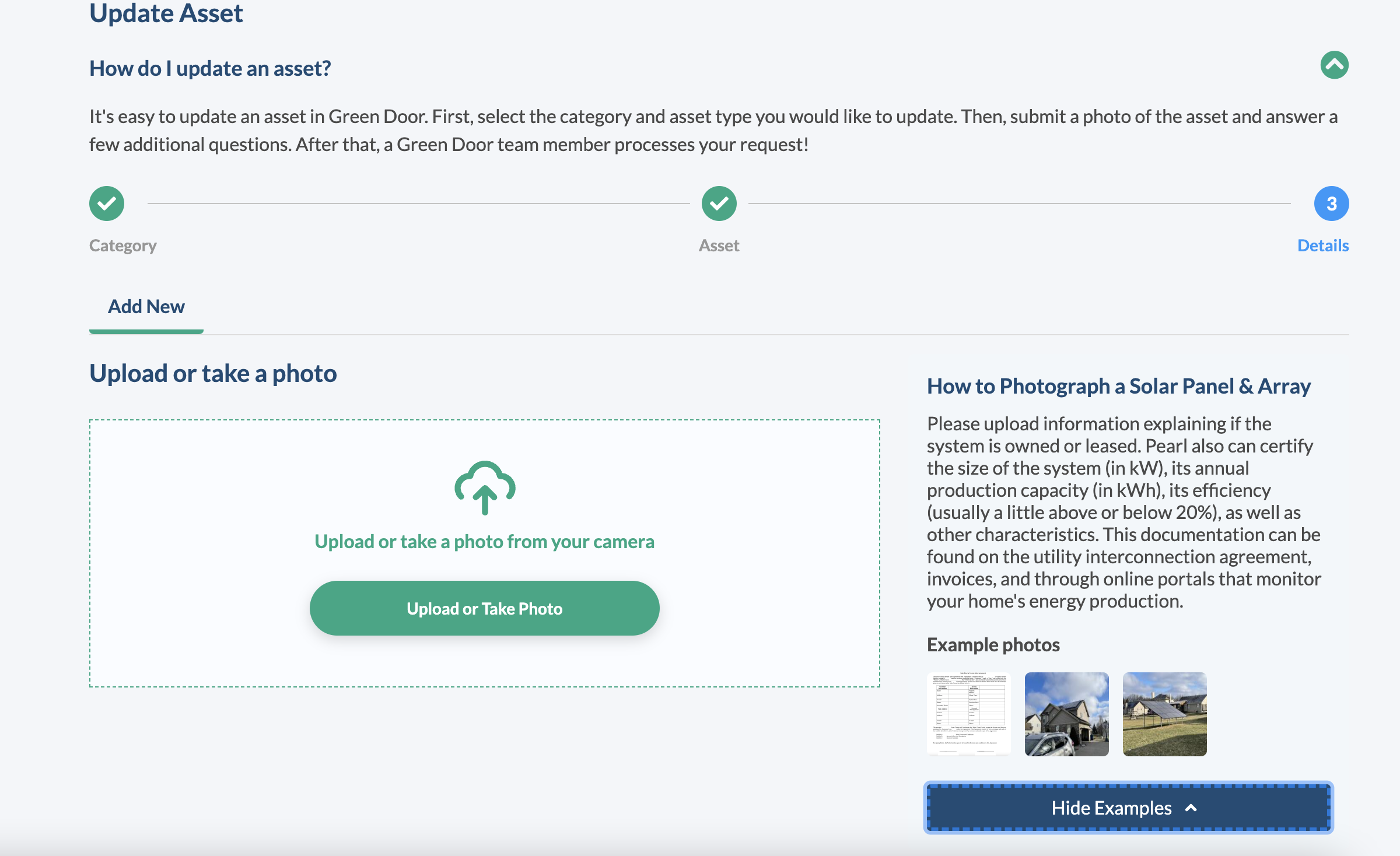 Electrified Home Badge
Like Pearl's Solar Badge, the Electrified Home Badge is a tool you can use to market your home and the investments you've made. As home electrification grows and homebuyers learn about the health, comfort, and cost benefits of going all electric, your Electrified Home Badge is an easy way to stand out from the rest of the market.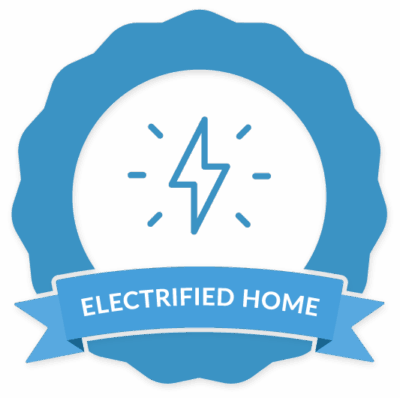 How to Earn It
Update your assets in Green Door to include the following home performance upgrades:
All heating systems converted from fossil fuel to electric

Heat pump systems are ground source or air source. Note that backup systems in cold climates may use fossil fuels and still qualify for the Electrified Home Badge.

All water heaters are either electric or solar.

All permanent cooking appliances, including cooktops or ranges, are electric or induction.

Clothes dryer is electric or heat pump.

Pool equipment is electric or heat pump.

All existing fireplaces that are permanent fixtures are electric, wood, or pellet.
Provide photos and documentation as needed for each asset update.
You can update these assets in the Baseload and Heating & Cooling categories of My Home's Assets in Green Door.

Each asset comes with detailed instructions for gathering the right product information as well as examples of the kind of photos Pearl needs to accurately certify the asset.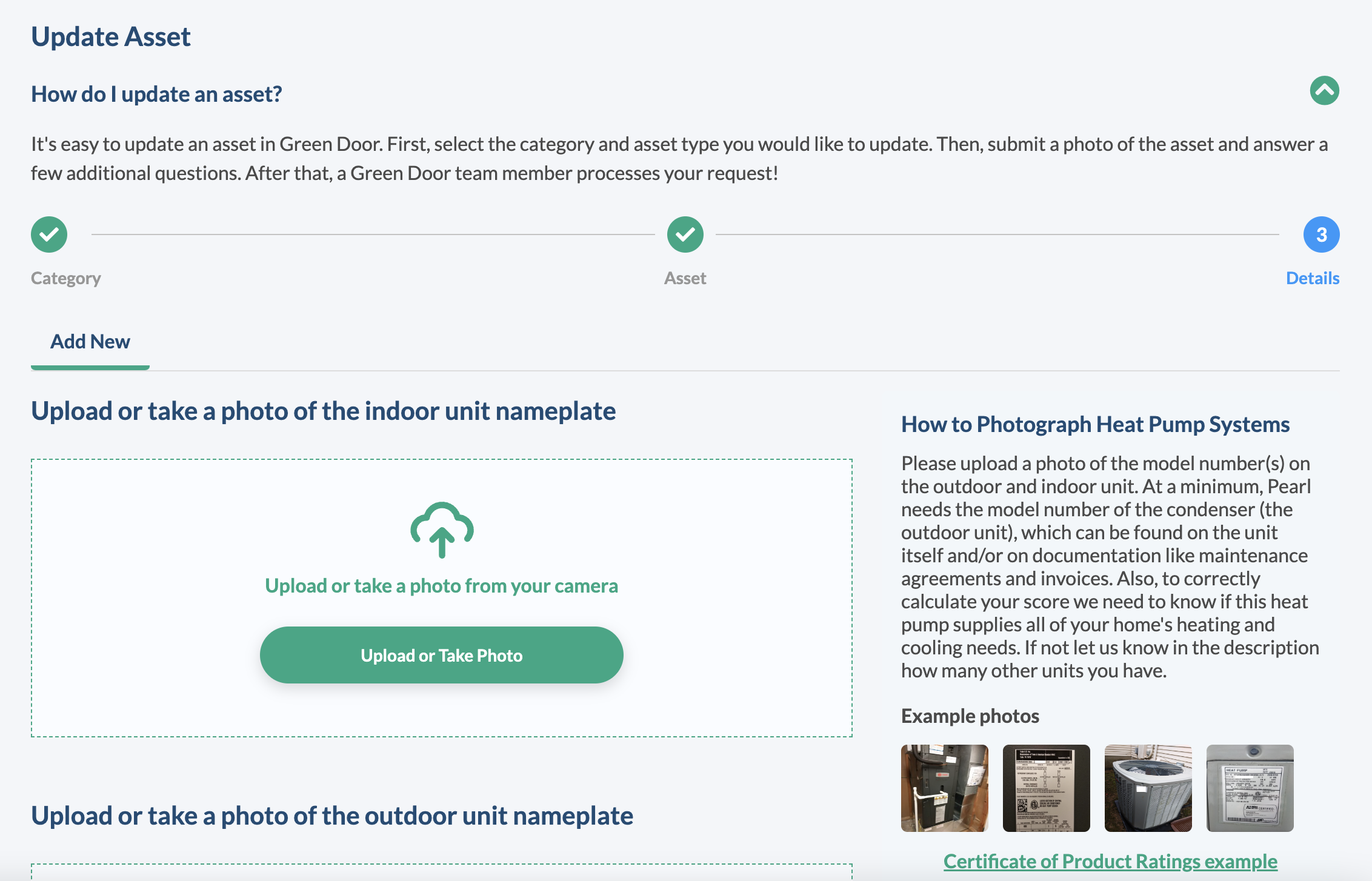 If you require any assistance updating your assets, don't hesitate to reach out to our Customer Service team at help@pearlcertification.com.
Once your assets have been certified, Pearl will issue your Electrified Home Badge and Certification package. The badge will appear in the certification as well as in Green Door.
What to Do With Your New Badges
Be sure to share your Certification package, Solar Equity Value Report, and your badges with appraisers, lenders, and of course, your real estate professional.
If you're looking to sell and want a partner who knows how to communicate the true value of your high-performing, energy-independent or electrified home, Green Door can help you find a Pearl Real Estate Professional in your area. Use the Find Professionals tool in Green Door to search for real estate pros in your area who are trained in marketing energy-efficient and energy-independent homes. Multiple studies have shown that Pearl Certified homes command a 5% premium when marketed properly. Maximize the return on your smart home investments with Pearl Certification and Green Door.