As a homeowner, you know the value of investing in your home's performance: improved health and comfort, lower energy bills, smaller carbon footprint, and a higher resale value.
You also know the cost that comes with each investment and how complicated it can be to find and decipher the rebates and tax credits that offset those costs.
The good news is, Green Door now makes it easy to find the savings you're entitled to through our new Rebates Finder. Rebates Finder serves up a list of your eligible rebates and tax credits based on your location and gives you the information you need to apply. No more searching online, no more stressing about savings you missed.
Find Your Rebates & Tax Credits
With Rebates Finder, you can:
Browse an up-to-date list of rebates and tax credits as soon as you login to your account.

Get important details on requirements, plus how to apply for and combine savings.

Generate a new list based on a different location.

Filter rebates and tax credits by utility, program, and product type.

Pin the ones you want to use later.

See which product types in your Home Investment Plans qualify for rebates.

Shop those products through our partner Build with Ferguson and get a free certification on top of your upfront savings.
As billions of dollars in new rebates and tax credits are added through the Inflation Reduction Act, Rebates Finder will update automatically to help you maximize your savings.
Try Rebates Finder and start saving now.
Find Your Rebates & Tax Credits
How to start using Rebates Finder:
1. Log in to Green Door and click on the Rebates option on the left nav menu.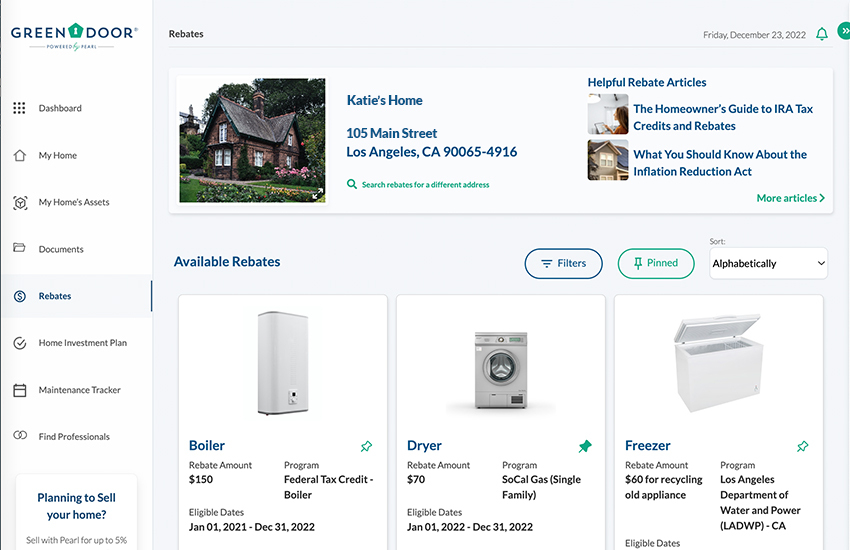 2. Green Door auto-populates available utility, state, and federal rebates to homeowners for the following Pearl Certification asset types:
Attic/roof insulation
Wall insulation
Heating systems
Cooling systems
Heat pump systems
Water heaters
Refrigerators
Dishwashers
Clothes washers
Clothes dryers
Health and indoor air quality
Smart home devices
Bathroom fixtures
Pool pumps
3. Filter and pin any rebate of interest or search for available rebates by another U.S. home address.
4. Click "View Details" to get additional rebate information, such as qualification criteria and a link to the program site.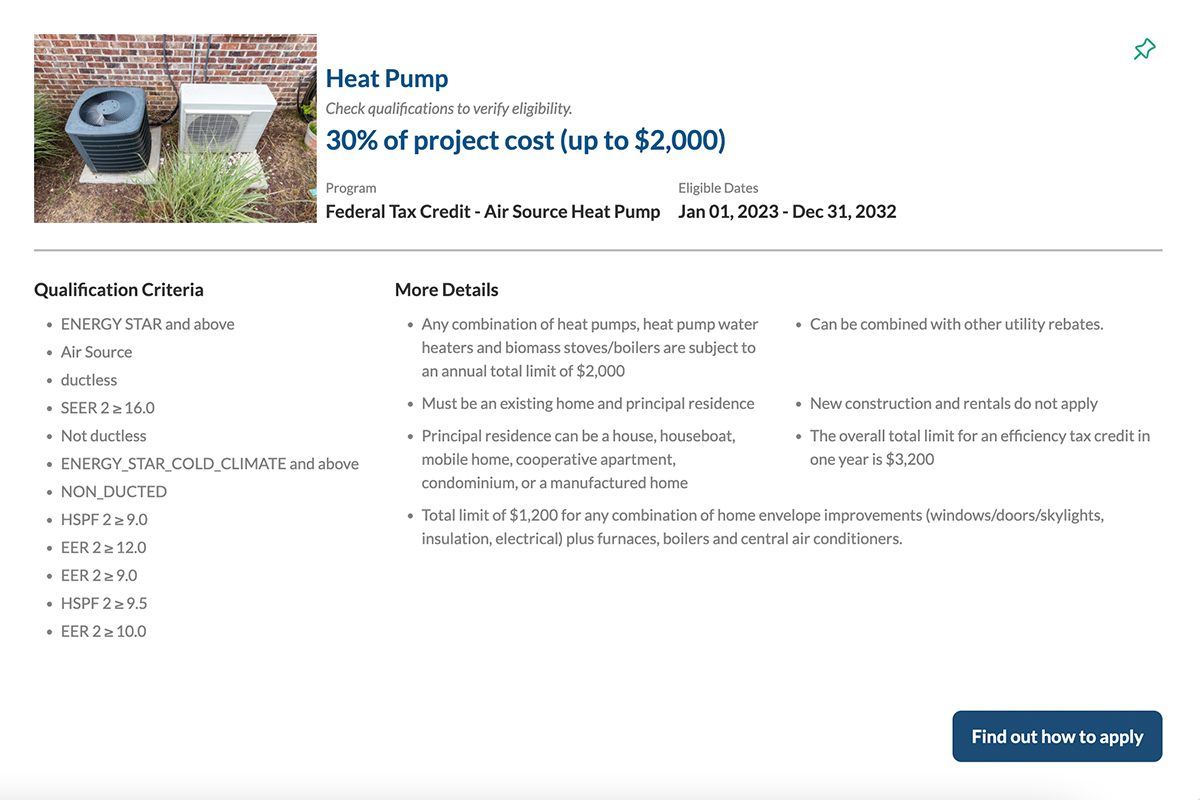 5. You'll also find Rebates badges on Home Investment Plan recommendations where rebates or tax credits are available and on product categories — which you can shop and have certified for free through our integration with Build with Ferguson.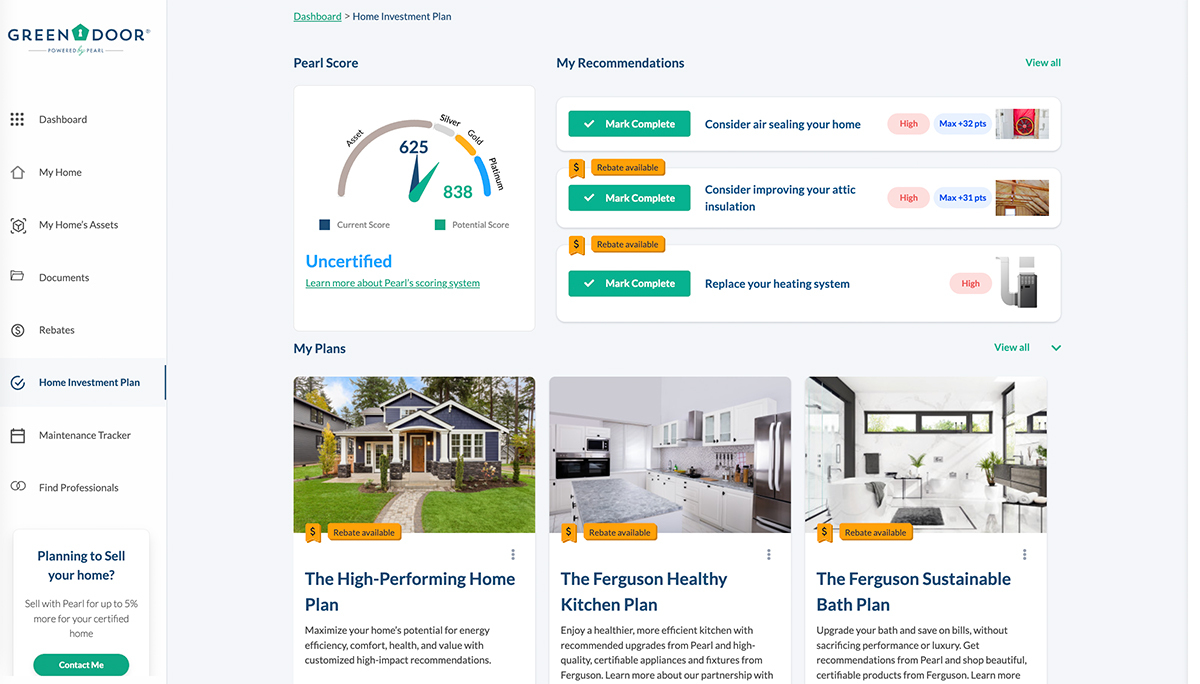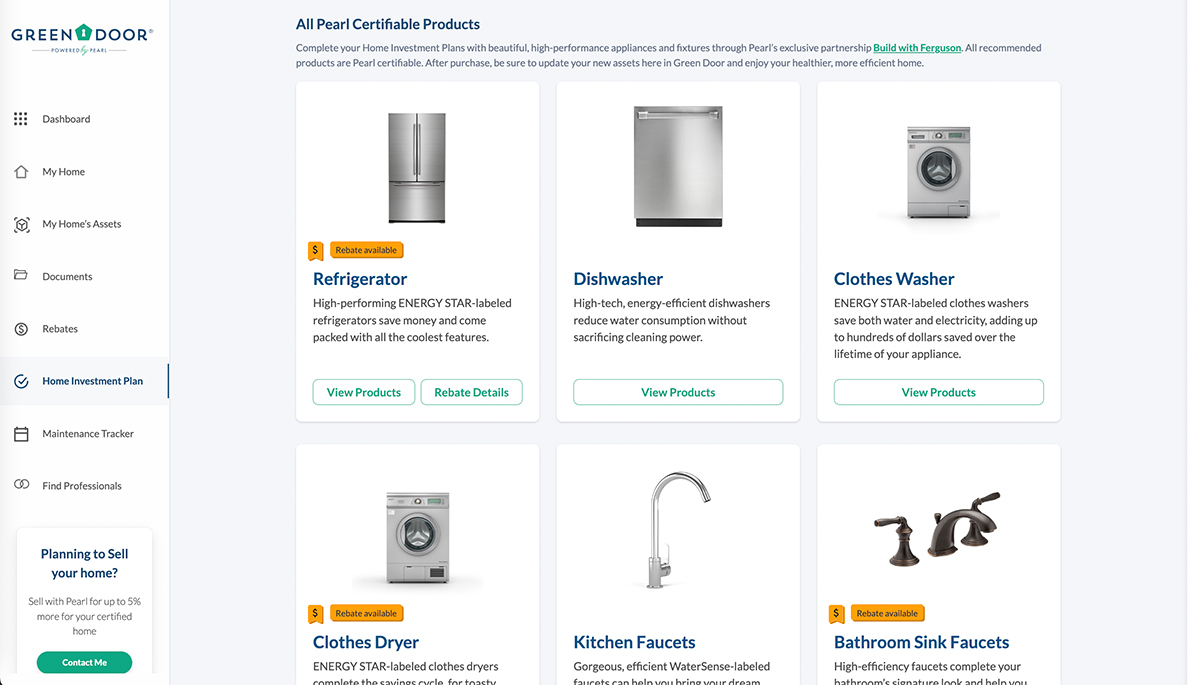 It's never been easier to build your high-performing dream home. Login to Green Door today to take advantage of these savings.
Go to Green Door